Web Advanced is proud to have participated in the product launch effort for Kwikset's new bluetooth deadbolt - Kevo. Launched last year as the first product of its kind, Kevo's use of bluetooth technology allows your front door lock to communicate with your iPhone. Walking up to your front door with your phone in your purse or pocket, you're able to lock and unlock Kevo with the tap of a finger.
In addition, Kevo's mobile app allows you to send digital "eKeys" to other people's iPhones. Whether it's a roommate, contractor, babysitter, significant other (or ex-significant other!) you can enable or disable their access to your home at anytime.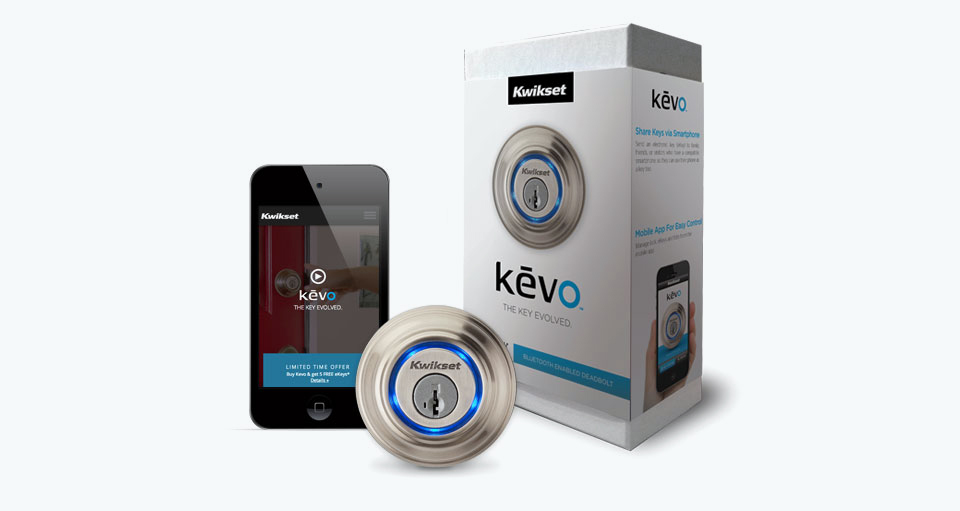 It was a fantastic experience collaborating with Kwikset's brand and marketing team to help roll out Kevo. Check out the result by visiting the Kevo microsite.
Web Advanced's Role in Launching Kevo
If you're interested in the development of Kevo's online user experience, the remaining notes provide insight into a few of the key challenges that we solved in the first nine months.
In summary, Web Advanced provided design, technology, and marketing support during key stages of Kevo's product launch. The major milestones included the launch of the product's "coming soon" page, the announcement of pre-ordering and online purchasing, and the development of an online support solution.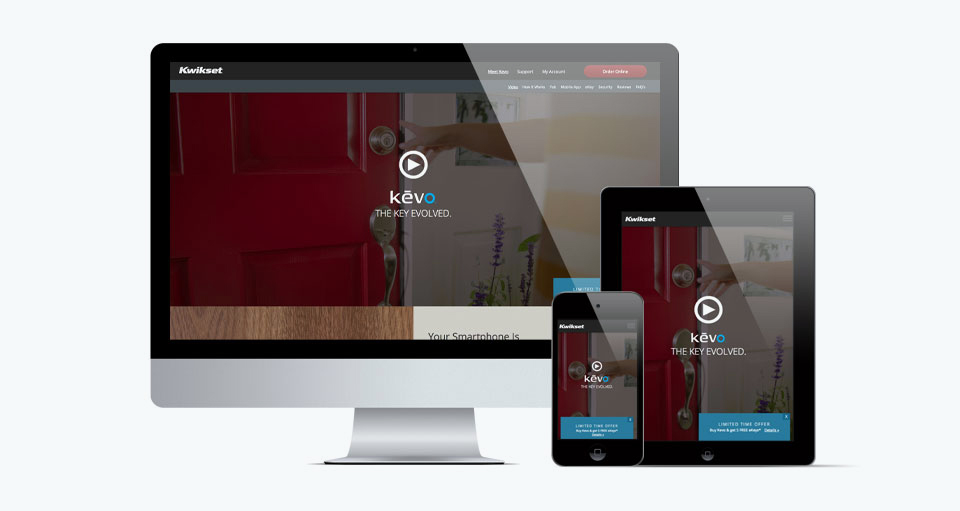 Services
Creative direction and design of look & feel
Front-end development and CMS integration
Content strategy and storytelling
Responsive design for web and email
Technology platform consulting
Project management and coordination
Ongoing maintenance and support
Core Components
Teaser/Coming Soon Page
Microsite
Customer Support Center
Landing Pages for In-store QR Codes
Promotional Marketing
Landing Page Email campaigns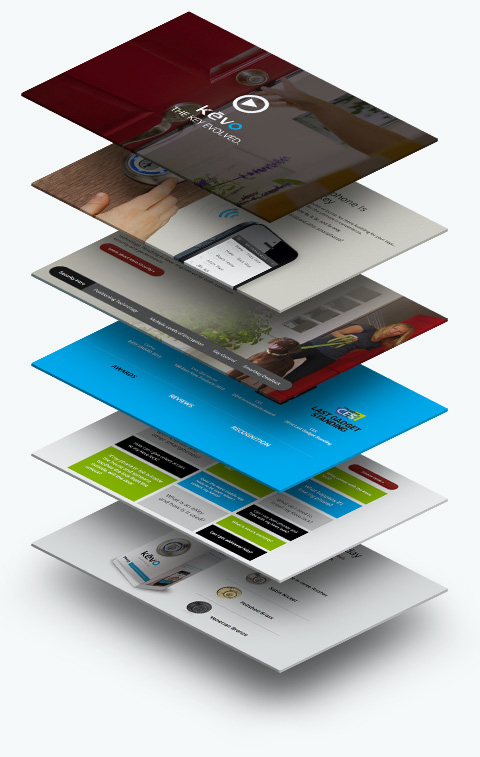 Telling the Story of Innovation with a 'Parallax' Website
Kevo is a gigantic leap forward in the 4,000-year evolution of the lock. With so many never-before-seen technology and security considerations, we had a lot of new information to communicate.
Built as a microsite, we presented the product storytelling within a long-scrolling ("parallax") website in which all information is accessible on a single, chapterized page. The approach is well-suited for situations like Kevo, in which the story is entirely new. Anticipating that first-time users would enter the experience with no built-in awareness of Kevo's innovations, we wanted to avoid the risk of users failing to navigate to important information simply because the topics were unfamiliar. The parallax format allowed us to place the most important information directly in the user's path.
The sequence of information and storytelling:
Video + Marketing Statement Nothing assists comprehension like showing the product in action
Introducing the Concept Core components of the Kevo system: deadbolt, mobile app, fob, and eKeys
Key Differentiators Security considerations are addressed by Kevo's patented technology
Establishing Credibility Showcasing Kevo's recent awards and appearances in popular publications
FAQs Quick, familiar way to address abundant questions from first-time users
Purchasing Details Buy button, choice of finishes, and the contents of the Kevo's packaging
Product Differentiation: This Ain't Kwikset's First Rodeo
Leading up to and after the development of Kevo, a number of "smart lock" competitors started their online marketing efforts. Here are two key points that we leveraged to distinguish the product from competitors:
Industry Experience: Kwikset is an established home security company with a long history of innovation - not a technology start-up. The Kevo deadbolt is the result of combining the latest in bluetooth technology, mobile app technology, and 60 years of designing residential and commercial locks that people trust. (You may have Kwikset key on your keychain right now!)
Positioning Technology: The technology that allows Kevo to know which side of the door your smartphone is on is a critical - and proprietary - security feature. Kevo can configured to know where you want your smartphone to be when it enables access. In this way, a random intruder could not enter the home simply because your phone was left near the door.
Quick & Powerful Customer Support
To provide an online support destination that could capture many topics and react to the constantly evolving needs of a new community of owners, we turned to the "Help Center" feature within Zendesk's Customer Service platform. After our research, Zendesk met the largest set of our needs:
Mobile version of the Help Center tool
Ability to organize FAQs into a hierarchy that goes at least two levels deep
Ability to theme the tool to match the rest of the microsite
Intuitive admin interface that doesn't require knowledge of web development
Zendesk is really easy to setup and start adding content. The Kwikset customer service team can enter new content - articles, PDFs, videos, notifications - into the system without any knowledge of HTML or CSS. This allows them to post updates and new support topics with lightning speed.

We went one step further in customizing Zendesk's Help Center for mobile devices. The mobile version that comes out of the box is very functional but its CSS is not directly editable (though we believe this ability is currently on their product roadmap). As a result, this may have posed a challenge to maintaining a consistent UI with the rest of the site. However, we were able to solve this by inserting code into Zendesk's editing tool which enabled the desktop version to become responsive and mobile-friendly.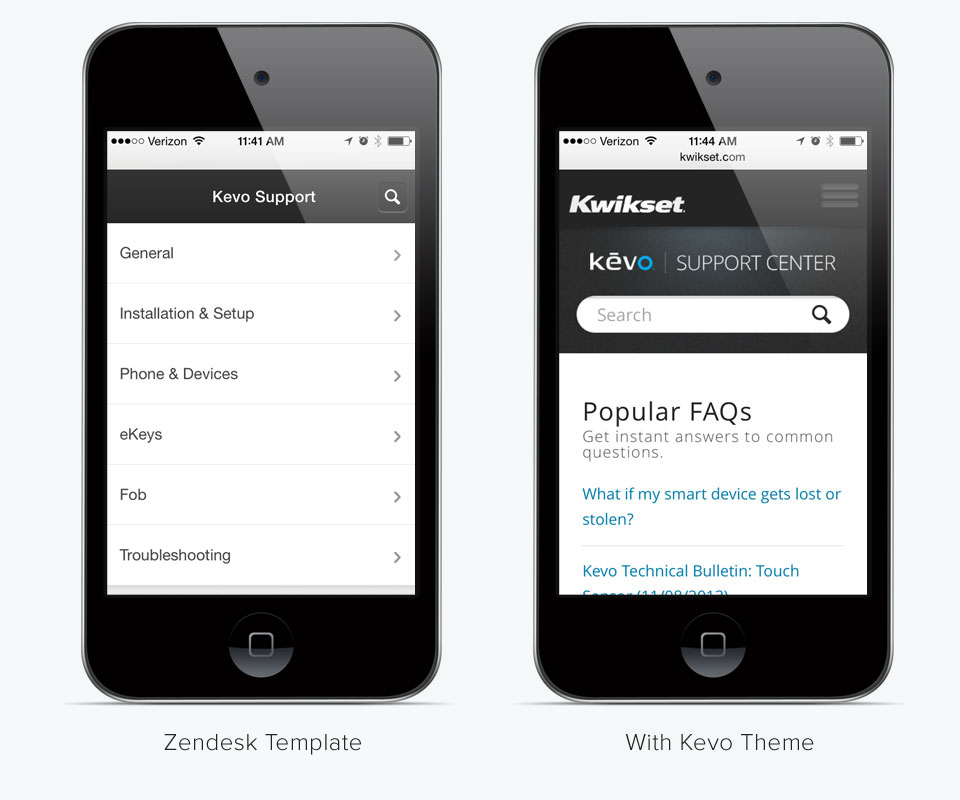 Keeping Users Engaged
The email marketing strategy that we developed with Kwikset's team was critical in maintaining awareness with prospective buyers during Kevo's early stages. Visitors to the "coming soon" page were asked to provide their email address in order to receive product updates and announcements. Capturing these early subscribers enabled us to alert interested users to the latest Kevo news, including the availability of pre-order and online purchasing.
Web Advanced continues to assist Kwikset in developing mobile responsive emails that keep product owners and potential buyers well-informed.
Email Results
Our recent email announcing Kevo's big win at the 2014 Consumer Electronics Show in Las Vegas resulted in a 24.87% Unique Click-through Rate. The email was sent to 35,000 people and highlighted Kevo's winning of the Last Gadget Standing "Live" award.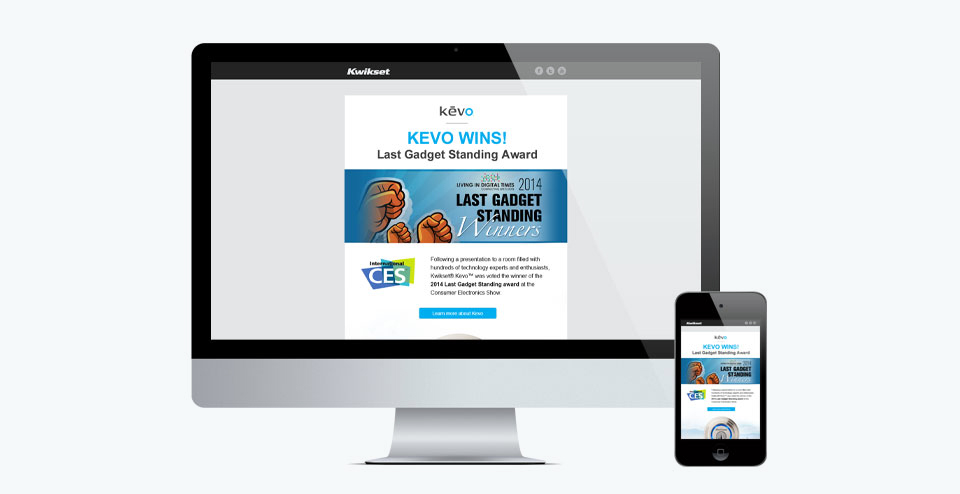 Mobile Responsive Emails
How important are mobile responsive emails? The statistics speak for themselves and their voice is louder every month. Mobile email opens are growing and currently upwards of 50% in many industries (check out Litmus' great post recapping 2013's statistics)
In conclusion, we became very engaged in telling the story of Kevo given our love of digital devices and the opportunity to work on the launch of a breakthrough product. Having been on the market less than a year, the work certainly isn't yet finished for Kevo's online presence and we look forward to working with Kwikset as the product grows!
About Web Advanced
Do you have an innovative new product or service that needs the right combination of storytelling and marketing strategy? Contact us! We'd love to hear about your project.
About Kwikset
Kwikset manufactures and markets a complete line of door locks and door hardware including door knobs, door levers, deadbolts, handlesets, pocket door hardware and electronic keyless entry locks for residential and light commercial applications. Millions of families have relied on Kwikset for security and peace of mind.