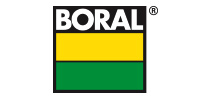 Choosing a paint color palette for your home means answering the tough questions. Is Kale Majesty a suitable accent for Moist Chartreuse? Does Purple Pizzazz complement Mango Tango?
Only talented colorists know.
And yet every day, homeowners begin the journey to remodel their homes. Faced with a baffling variety of colors and their cheeky names, many suffer from a widespread disorder referred to as Paint Chip Paralysis. You'll find these wary individuals rooted in paint stores, shuffling fistfuls of color swatches with the quiet intensity of a desperate card player. And in the process, dramatically extending the sales cycle of many a designer showroom.
The quick, painless remedy for Paint Chip Paralysis is the myBoral Brick Designer. It's free. And comes equipped with ready-made pairings of brick, stone, and paint colors which have been carefully selected by Boral and Sherwin Williams colorists. It's the tablet app that delivers stylish recommendations before you can say Jazzberry Jam. Mauvelous.